Rehab Service in Columbia
Sports & Injury Rehab Services in Columbia, Maryland
An individualized, Elite Chiropractic and Sport patient-specific in Columbia Rehab Service can have great benefits to athletes of all levels, professionalism, and ages. From recovering from a severe sports injury to learning a training regimen for future injury prevention, we offer sports and training rehab in Columbia MD for any needs and we will surpass patient expectations.
Dr. Bross is a Certified Chiropractic Sports Practitioner (CCSP), as well as a Certified Strength and Conditioning Specialists (CSCS). They are both nationally recognized certifications, where professionals apply scientific knowledge to train athletes for the primary goal of improving athletic performance.
If you could benefit from a sports or injury rehab service, contact us today to talk about what options we have for you and your specific athletic and health goals, and what is holding you back.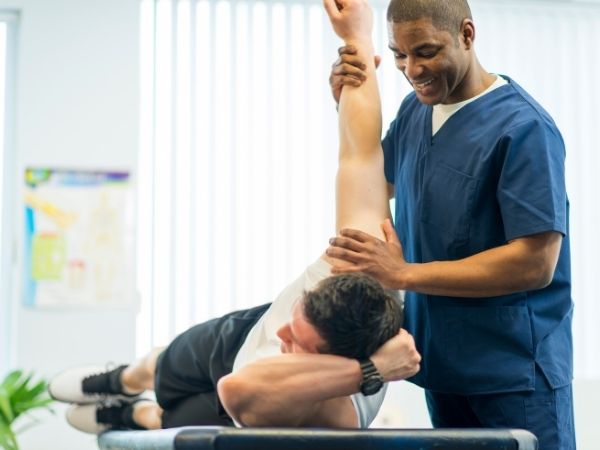 Our Approach to Sports Rehab
Dr. Bross conducts sport-specific testing sessions to then design and implements a safe and effective strength training and conditioning program for each patient. Part of the rehab in Columbia, MD that we provide includes guidance regarding nutrition and injury prevention, as well.
What is Injury Rehab Service?
A sports and injury rehab service can focus on several different things, depending on the specific needs of the patient. The general practice of sports rehabilitation is that it creates a personalized training program after an injury or surgery that is set to increase athletic performance while reducing the possibility of injury during workouts.
Columbia rehab service is primarily utilized when recovering from a severe injury, experiencing pain or mobility issues caused by an untreated injury from years prior, or surgery recovery that has limited immediate return to a normal training program and involves careful training until the body is healed properly.
Sports rehabilitation or a general physical rehab service should always be all-encompassing, targeting what injuries are most likely to occur and how to avoid them, what diet will complement the training, and how the training will specifically advance you towards your goals of high performance while staying safe.
Is Injury & Sports Rehab Treatment Right For You?
All of these ailments are able to be treated with a proper, personalized rehab service, which Dr. Bross handles using his knowledge from his years of education, training on his own, and training athletes.
He provides custom, patient-specific exercises during the individual rehab that will help with reducing pain, recovering quickly, growing strength, and he provides thorough knowledge of the why's and how's so you can take what you have learned to maintain healthy practices even once you are fully recovered.
We Treat the Following Athletes at Elite
Let's Begin Injury Rehab in Columbia MD
There is no better time to start injury preventive Rehabilitation in Columbia MD than today. There is always more to learn no matter your age or experience, and Dr. Bross and the Elite team can assist in elevating your recovery or training program to outstanding heights.
Just because you have suffered an injury or surgery that has induced setbacks does not mean you cannot create a proper routine that is set towards your personal recovery and goals. With Dr. Bross' experience and education, there is always a way to keep you moving and keep your training.
Our Chiropractic Services