Don't Just Treat Symptoms, Help Accelerate Recovery
Beyond passive cold and compression applications, Game Ready is the proactive power to help heal.
Game Ready ice machine is an innovative ACCEL™ Technology (Active Compression and Cold Exchange Loop) that combines active compression and cold therapy in a revolutionary treatment system. 
Now you have the therapeutic power to enhance lymphatic function, encourage blood flow, and help stimulate tissue repair. For acute musculoskeletal injury and post-op recovery, go with the new standard of care.
We rent out the Game Ready for home use following surgical procedures. Please call our office to rent it today!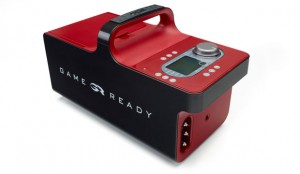 Why do we recommend Cold Therapy Compression for Athletes?
A healthy athlete's body is more than capable of recovery from surgery in an average amount of time with minimal complications if everything went smoothly. However, cold compression and cold therapy can greatly ease the process of recovery and improve the recovery process.
The team at Elite Chiropractic and Sport recommends the Game Ready Ice Machine to ease the transition from post-op to full recovery and provide more comfort during the process. A more comfortable healing process has the possibility of reducing stress, and the compress wraps encourage proper healing practices.
Cold therapy via the Game Ready Ice Machine has also been found to reduce the need for Opioids during recovery. Opioids are highly addictive and can be risky to be on for a long period of time. Cold therapy compression helps reduce pain around the injured location, thus reducing the need for prescription medication and can even cut short the amount of time the Opioids were prescribed for.
As sports medicine is our primary focus and we have every interest in seeing athletes back on their feet, healthy, and training like normal, talk to us about renting the Game Ready Machine. The simple to use design and comfort wraps can really improve the recovery experience and help athletes get back to what they love doing most — training hard and working towards goals. Plus, cold therapy provides an increase in mobility, which can greatly help reduce feelings of stiffness and discomfort.
There's no reason not to talk to us today about the benefits a Game Ready machine can provide to you in your time of need.
The Benefits and Uses of Cold Therapy
Some Main Benefits of Cold Therapy
Recommended for Injuries & Surgeries
Options for Game Ready Wraps
What is Cold Therapy?
What is Cold Therapy Compression?
How Does the Game Ready Ice Machine Work?
What is Cold Therapy?
Cold therapy is a form of Cryotherapy. The practice of cold therapy compression reduces blood flow to a particular area, generally the area that is healing from an injury or surgery.
The reduction of blood flow decreases inflammation and swelling that would otherwise cause pain and discomfort, specifically around joints and tendons. Cold therapy can also alleviate pain by reducing nerve activity.
If you have ever used ice on an injury, that is a similar form of cold therapy. Game Ready's cold therapy is a more advanced version of an ice pack on your wrist or sprained ankle that leads to a faster, pain-free recovery.
What is Cold Therapy Compression?
How Does the Game Ready Ice Machine Work?
Our Chiropractic Services